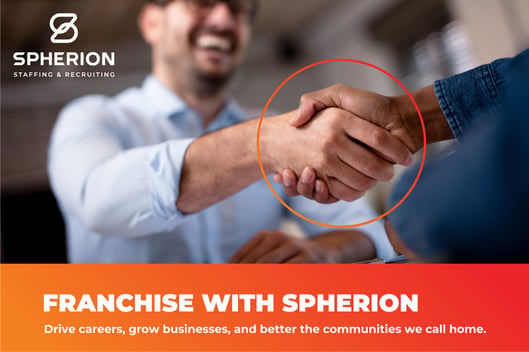 Thanks for your interest in becoming part of the Spherion family!
Who We Are
Spherion Staffing & Recruiting is on a mission to drive careers, grow businesses, and better the communities we call home.
We're a staffing and recruiting pioneer that's been driving careers and helping businesses grow for over 75 years. Our 150+ offices are locally owned and operated by empowered entrepreneurs who care deeply about the communities they serve.
Why Franchising with Spherion Matters
Spherion Staffing & Recruiting puts more than 150,000 Americans to work each day in almost every industry. That's a privilege we take very seriously. Our dedicated recruiters take the time to get to know our job candidates and their career goals, so we can find them the right job, not just the next job.
We Need You!
We could not achieve our mission without the help of growth-minded entrepreneurs like you.
Check out our main website for important information about franchising with Spherion:
Complete the form to the right to introduce yourself to Bill Tasillo, our vice president of market development. After you complete the form, Bill will reach out to schedule a quick call to learn more about your business goals and background.
We can't wait to meet you!